Mandela Effect


There are a couple of Mandela effects in this video about back to the Future, such as the Van in the terrorist scene being different than the one that I remember originally. I remember the VW Van rather than the other car. The interesting oddity though is the change in the logo on the van in the middle of the scene. This says to me that God not cern is demonstrating timeline convergence using the film back to the future, which if you think about it means that God might have a sense of humor.
I personally have a really co-incidentally relationship with Michael J.Fox personally. I managed a movie theatre in Port Washington NY for like a year when Back to the Future came out. I moved into the city in the early 1990's and met Michael J. Fox casually through some friends. Two summers ago, I was going out to my sister's in East Quoque, where my brother in law was managing a millionaire's club that had just opened that summer.
I had worked at this same club as a bartender 20 years before when it was called the Inn at Quoque. I walked into my sister's house and my brother in-law was on the phone with Michael J. Fox, who had just became a member at the club that summer. It gets even worse, this summer I was going to mass at St. Vincent Ferrer on 66th and Lexington Ave in New York City. One Sunday afternoon I saw a replica of the Delorean in the movie from Back to the Future parked right out front. This was the same church that my parents had gotten married in and my former assistant Jennifer had gone to High School…A little weird eh..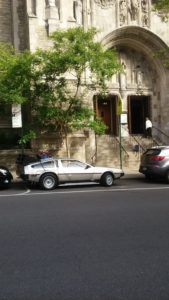 Matthew 17:20
"Because you have so little faith." He answered. "For truly I tell you, if you have faith the size of a mustard seed, you can say to this mountain, 'Move from here to there,' and it will move. Nothing will be impossible for you."
Yes, I believe that We the People are making these effects happening ourselves, remaking Earth eventually into Heaven on Earth. The lines of times are converging into a Singularity, which in the Bible they call the Day of Judgement.